Attending Physicians at The Laurels of Bon Air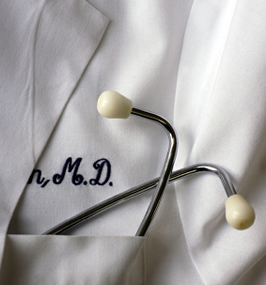 The Laurels of Bon Air is very pleased that many surgeons and attending physicians follow their patients at our facility.
If your physician does not have admitting privileges, our Medical Director or other attending physician will be happy to oversee your care while you are staying with us. If you have any questions regarding your physician coverage, please don't hesitate to contact us at (804) 521-9980. We can assist you to ensure that you will have physician coverage.
The current list of attending physicians at The Laurels of Bon Air includes, but is not limited to, the following:
Danny W. Felty, MD, FAAFP, CMD, Medical Director
Dr. Felty grew up in Roanoke, Virginia and was a Distinguished Graduate of the Virginia Military Institute where he received a Bachelors of Science in Biology with a minor in Psychology. He received his Doctor of Medicine from the Medical College of Virginia campus of Virginia Commonwealth University. He furthered his education with a residency at Chesterfield Family Practice through the Virginia Commonwealth University. Dr. Felty's professional affiliations include membership in the American and Virginia Academies of Family Physicians, Richmond Christian Medical and Dental Society, Richmond Academy of Medicine in addition to the American Medical Directors Association. Due to his interest in long-term care and geriatrics, Dr. Felty pursued additional education and received his certification as a Medical Director in 2009 from the American Medical Directors Association. Dr. Felty is a founding partner at Chippenham Family Medicine, located on the Chippenham Campus of CJW Medical Center. Chippenham Family Medicine is a thriving family practice consisting of five physicians and two nurse practitioners that proudly serve the Richmond area. Dr. Felty is a happily, married father of two sons. He and his family maintain an interest in health and fitness and are active members of the Midlothian community. He serves his church in multiple leadership roles and volunteers his time with faith-based charities.
Thomas Scioscia, MD, Rehab Program Director
Dr. Scioscia received his undergraduate degree from the University of Richmond in 1994, where he was an All-American baseball player. He then attended the Medical College of Virginia where he graduated as the valedictorian of his medical school class. He completed both his internship and residency at the University of Pittsburgh. Further education included a fellowship in Spine Surgery and teaching fellowship as clinic staff at UCLA. Dr. Scioscia is certified by the Board of Orthopedic Surgery. His hospital affiliations include St. Mary's Hospital, West End Orthopedic Clinic Office Operatory, CJW Medical Center-Johnston Willis Campus, and St. Francis Medical Center. In addition to his collaboration with The Laurels of Bon Air, Dr. Scioscia serves as the Medical Director of the Commonwealth of Virginia.